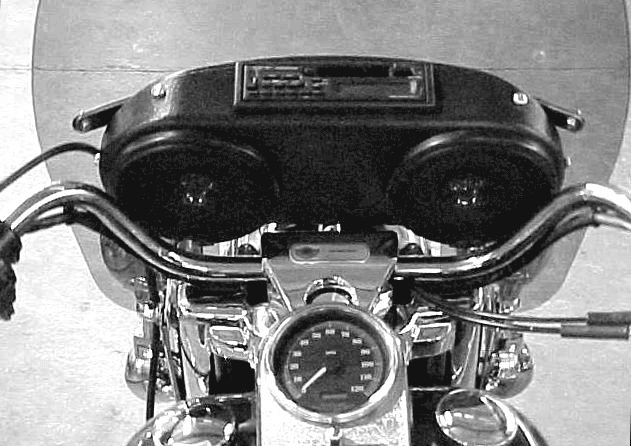 Hot Bike - May 2000
Music from the 'King
Text & Photos by Jeff Deasey
Road Kings have always been a favorite model for most of us here on staff.  Big, comfy and with room for your travel stuff, the Road King does it all in classic style.  Probably the only complaint has been the lack of a stereo like those found on the Electra Glide and Road Glide.  The problem is, without a fairing to hide the sound equipment in, how is a 'King owner supposed to add tunes without ruining the classic streamliner style of the front end?


Motor City Cycle has a solution.   Their Road Radio Box allows you to add a full-featured stereo system to your Road King that can be easily removed without leaving a trace of its existence behind.  The kit is available as a box-only, ready for your equipment or filled with a Kenwood KRC, AM/FM cassette deck with 40 watts per channel and dual four-inch Kenwood speakers.  The kit installs on your stock windshield in minutes.  Simply remove five bolts from your stock windshield, attach the Road Radio Box and re-attach with the included longer screws provided in the kit.  Our test unit came pre-installed on a stock windshield making our project a little easier.  


Once installed, the stereo is snapped in place with the windshield and hooks up with a single multi-connector plug for ease of use.  We would recommend dropping the extra cash for a second windshield to allow running it with or without a stereo since adding/removing the stereo only takes 30 seconds or so out of your day, why not have it both ways! 
Lite Tech - VQ #33
Putting the Boom in the Bike
Text & Photos by Paul Garson & Jan Hagglund
If you like background music to your scenic cruising, then Motor City Cycle of Farmington Hills, MI, has a great way to add tunes to your bike.  The Road Radio Box comes as a kit, ready for simple installation behind the detachable windshields of Harley-Davidson Road Kings, Heritage Softail Classic and Fatboys.  The system consists of an ABS box that houses most standard cassette/radios plus two speakers.  The stereo system is mounted vertically so that it rests both securely and inconspicuously and directs the sound right atcha.  The installation takes about an hour (two if you're listening to music and working during commercials) and the kit comes with a quick-disconnect plug, hidden, integrated antenna, rip-stop nylon weather resistant cover and all necessary hardware and instructions.  Just plug in your choice of entertainment unit in the form of an AM/FM Cassette player and you're a mobile DJ.  If you want the whole enchilada, Motor City Cycle will supply you with the Road Radio Box complete with a Kenwood full-featured AM/FM/Cassette player with 40 watts per channel and and a set of Kenwood 4-inch speakers.  You be crankin'!  A party waiting to happen when you park.  And while riding, you can play just the right mood music for the type of activity you're enjoying . . . from the Grateful Dead to ZZ Top to Mozart.  And, don't forget talk shows and baseball games.  You could even plug in a learn-a-language tape or a good book in the tape player.  Some mood music around the campfire . . . it's all at your fingertips.


Got an extra stereo lying around from the car you sold?  Here's a quick way to recycle it back into your cycle.  When technician Bruce Borella at Canyon Cycle, a full-service and parts shop conveniently located next door to the Easyriders offices installed a Road Radio Box/Kenwood combination, both he, and we were equally impressed by the careful attention to detail, such as the clear labeling of parts with tags.  And yes, everything fit! 



Hot Rod Bikes - June 2000
Looney Tune-ing a Road King
Text & Photos by Bill Bartels
Regular Hot Rod Bikes readers will note the obsession we seem to have with turning our '99 Road King back into the full-boat bagger from whence it originated.  Well, this month it's no different.  In our minds, the only thing missing from the classic-styled tourer to our minds was tunes.  Motor City Cycle sent us a nifty kit that fit right in with our nefarious plans:  the Road Radio Kit.  You can either get just the box and all necessary hardware and connections (MSRP $299.95; S&H $7.95) or a complete setup with a tape deck and 100-watt speakers (MSRP $499.95; S&H $14.95).